LeeAnn Haaf, PH.D.
Estuary Science Assistant Director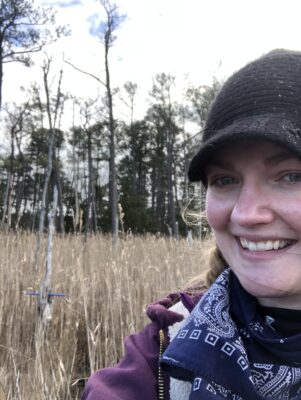 LeeAnn Haaf, Ph.D. is PDE's Estuary Science Assistant Director. In this role, LeeAnn performs research on coastal wetlands and forests, helps manage a variety of research projects, and leads scientific reports on the status and trends of the health of the Delaware Estuary. LeeAnn first joined PDE in 2013 as a Science Intern. LeeAnn earned her Bachelor's, Masters, and PhD in Environmental Science from Drexel University. LeeAnn started her research career in the New Jersey pine barrens where she studied pine snake ecology and conservation. Now, her research focuses on coastal wetlands and the response of Mid-Atlantic coastal forests to sea level rise and climate change. LeeAnn's professional goal is to help bridge the gap between rigorous scientific research and its' implementation to inspire positive environmental change. LeeAnn lives in Salem County, New Jersey. In her free time, LeeAnn enjoys horseback riding (her own horse, Reiner, is retired!) and going on hikes with her dog, Sprocket. LeeAnn's favorite place in the Delaware Estuary is Jakes Landing, Cape May County, NJ.
To contact Haaf, please call (302) 655-4990, extension 116, or email lhaaf@DelawareEstuary.org.
Image credit: PDE