Chesa Blom
Philadelphia Community Programs Coordinator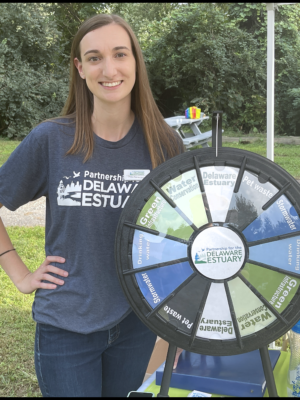 Chesa Blom is PDE's Philadelphia Community Programs Coordinator. In this role, she organizes public environmental events in the Philadelphia area, such as the annual Delaware River Festival. She also coordinates the storm drain marking volunteer program and dog waste reduction outreach work on behalf of the Philadelphia Water Department.
Prior to joining PDE, Blom served as an AmeriCorps VISTA volunteer at the School District of Philadelphia Sustainability Office, where she worked with teachers and district offices to engage young people in sustainability efforts. Blom holds a Master's degree in Environmental Studies, with a concentration in Sustainability, from the University of Pennsylvania and a bachelor's degree in Environmental Resource Management from Penn State University. Blom lives in Swarthmore, Pennsylvania, with her husband, where she loves trying out new recipes in the kitchen. She also enjoys spending time outdoors, whether in the garden, local park, or along the Delaware River in Philadelphia.
To contact Blom, please call (302) 655-4990, extension 117, or email at fblom@delawareestuary.org.