Other Strategic Initiatives
There's more to the Estuary than water.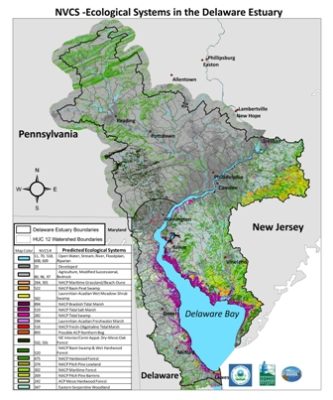 Delaware Estuary Plant Communities
"Natural communities" are unique groups of plants that live in specific environmental settings. These communities can reflect conditions at a scale broader than a species's population, yet more refined than the landscape in which they live. The Guide to the Natural Communities of the Delaware Estuary describes 35 ecological systems and 185 natural communities known to occur in the region. It also contains a table that converts state classifications in Delaware, New Jersey, and Pennsylvania into a common language called "the National Vegetation Classification System" (NVCS); therefore, assisting in regional resource management, conservation, and restoration.
Over the past several years, the Partnership for the Delaware Estuary has worked with NatureServe and the Nature Conservancy to prepare comprehensive maps of the ecological systems across the Delaware Estuary. Initial maps have been completed for the watershed in Delaware, New Jersey, and the Brandywine River area of Pennsylvania, and this work continues in Pennsylvania. In addition, an Addendum to the Guide to the Natural Communities of the Delaware Estuary is available in the "Data & Reports" tab.
The information in these publications helps to guide natural-resource planning and management by identifying sensitive plant communities that merit consideration for restoration and conservation, matching suitable vegetation to the appropriate local context. The PDE is also providing educational opportunities to demonstrate how the guide and maps can be used to guide restoration and protection. Contingent on future funding, these inventory efforts might be expanded to consider all the animals, plants, and ecosystem services and functions associated with the different ecological communities of the Delaware Estuary. The PDE is similarly working with partners on an inventory for bottom-dwelling animals in the tidal portion of the watershed (see "Bay-bottom Inventory).
For more insight into this program, please contact the restoration coordinator or call (800) 445-4935.
Plant Communities – Data & Reports
Delaware Estuary NVCS Materials:
GIS Maps of Delaware Estuary NVCS:
Pre-made PDF maps made from GIS files: